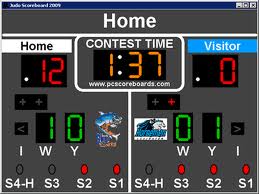 Have you ever sat through a great strategic planning session, developed exciting plans and goals and left feelingpositive and inspired?  Yet once you walk out of the room all the strategy and plans you developed die.  Nothing happens.  Has this ever happened to you?
I'm guessing it has – which is why when you use words like "Strategic Planning", "Mission", "Vision", "Value" and "Goals", everyone's eyes roll to the back of their head because they've "been there, done that".  It always sounds good, but when nothing happens it demotivates and demoralizes the team.
So how do you avoid this ever happening again in your organization?  Simple: by tracking progress and keeping score.
Last week our business challenge focused on Capturing Your Key Metrics. This week your challenge is to put a visual tracking and scorekeeping process in place that clearly shows how you are doing achieving those key metrics.
Examples:
If one of the key metrics is improve customer service response from 2 days to 3 hours, have a visible area in your company where it shows what the daily response rate is compared with the goal.
If one of your key numbers is 100 new orders by St. Patricks Day, create an area where you post a numbered shamrock for every new order is obtained.
Put up big posters and charts in highly visible areas.  If some of the information is confidential,  create a war room for key company executives where you hold your meetings so those KPI's are right there – nowhere to hide!
As you plan your visible tracking and scorekeeping, keep in mind this is an ideal opportunity to involve and engage people in your organization who don't normally get involved in weekly, monthly or quarterly goal achievement.
And celebrate big!  Whether it's a public acknowledgement or a monetary incentive, determine how you are going to publicly reinforce your progress.  Publicly tracking progress and keeping score can positively alter your culture and results!
Sincerely,
Bruce Rector
The Rector Group
Tel: 954-356-0439
brector@therectorgroup.com
SIGN UP HERE TO RECEIVE YOUR WEEKLY BUSINESS CHALLENGE.
If you find this helpful, I would appreciate it if you would Forward it to a Friend or Colleague or post to one of your social media channels.  Thanks in Advance!